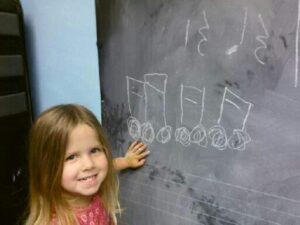 I love Little Bird Piano Academy!
My almost 3-year old daughter is learning so much. She sat down with a book of piano music yesterday and pointed out all the short notes, long notes, and whole notes. She's still 2!
It's amazing to see her pick up the language of music!
Rachel Clayton Farnsworth, November 18, 2013
I just wanted everyone to know that Holly is an amazing piano teacher. I can't believe how much my 3 year old son has learned in just one and a half months. He has sooooo much fun. Holly is born to teach piano!
Wendy Poppleton Pendergrass, November 18, 2013
Holly is a fantastic piano teacher!  She combines standard piano methods with original compositions tailored to each student.  We love how she has identified the different learning styles of our children and customizes her teaching to each one.   She is patient and always positive with them.  Holly also encourages improvisation and creativity which keeps the kids interested and working hard.   We highly recommend her!
Jason & Amy Gerber, Chesapeake, Virginia
Holly is AMAZING! My son had the privilege of taking piano lessons from her for several years and his playing, confidence and musicality in general grew dramatically during his time with her. Holly is a gifted musician being able to teach, improvise, and perform in piano and voice. Thank you Holly for sharing your talents and good luck in all you do!
Juanita Kerr, Puyallup, Washington
When it comes to teaching children, Holly is brilliant! She knows how to get them involved and make it fun and stress free. I recommend her to everyone with little ones!
Radhika Anderson, Snowflake, Arizona