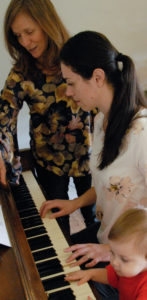 Little Bird Piano Academy is a program for kids from infant to age 5.
With this fun and unique method, parents interact with their kids and develop skills and techniques to help their children learn. Piano and voice are used as the foundational instruments used to teach music as a language. Students learn to play in all keys, transpose, improvise, read and write music, and to play by ear. Musical notation, theory, expression and technique are taught through games, songs, and activities. Holly believes that all children can benefit from having full use of the musical language just as they are offered full use of spoken language, and that families are strengthened by learning together.
This method was developed and is taught by Holly Hamilton, a lifelong learner and educator with over 40 years of experience teaching piano to small children. Her education includes classical, contemporary, jazz improvisation, and composition for piano and voice. Holly received her pedagogy training through Seattle Pacific University and continues to study commercial music. She is a prolific composer of choral, symphonic, jazz and piano literature. Holly has performed as a lead in two college operas, and has been a professional jazz vocalist and pianist. She has taught piano to students ranging from infants through adults, has led children's and adult choirs, has accompanied countless choirs, congregations and soloists on piano and organ, and taught composition and musical notation. She is currently offering private individual and group lessons in Issaquah, Washington.